We're not even two whole months into 2020 and just when you think this year might be less of a trash fire than the previous one, a Kentucky Fried Chicken Croc appears out of nowhere on your screen and assaults your eyeballs. I'm so sorry, but if I have to look at these fried-chicken clogs then you do too. FYI, the collab was officially announced on Wednesday, and while they're not available to purchase just yet, they'll be available later this spring, retailing for $59.99 in unisex sizes.
In case you're wondering, yes, the red-and-white soles are supposed to resemble a fried-chicken bucket, and YES, those are in fact drumstick "jibbitz" attached to them that are "chicken-scented." What exactly are "jibbitz" you ask? They're those lil decorative attachments you can insert into the holes of your Crocs for extra flair.
Another frightening surprising thing is that there is also a PLATFORM version. You hear that? It's the collective sound of everyone's jaws dropping in horror when they see you stomping around in these bucket clogs.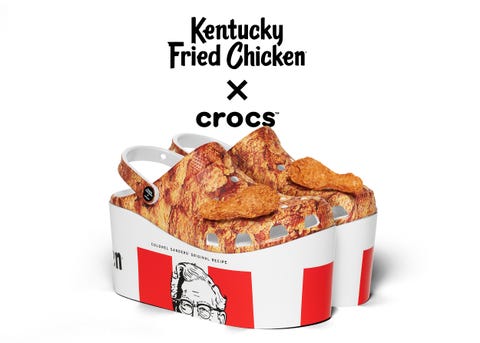 "As Crocs continues to create new, unexpected brand collaborations, we're thrilled with this 'bucket list' partnership with Kentucky Fried Chicken that will bring fans an unbelievably fun and fashionable take on our classic clog," said Terence Reilly, Crocs SVP and CMO, in a press release. Between this announcement and the fact that Crocs sales on Amazon were up a casual 12 million percent(??!?!), the brand is really going all in on its, uh, unique marketing.